Posted by BRADY in
celebrity gossip
April 20th, 2012, 02:38 PM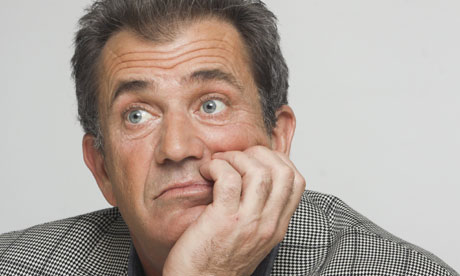 Aw come on, does this look like the face of a crazy person? Oh, wait, it totally does
They say time heals all wounds, and that's especially true in Hollywood. Chris Brown was back on the top of the charts less than a year after beating Rihanna. Dog the Bounty Hunter is back hunting meth-heads after disgracefully leaving the air after dropping racial slurs. Even that dude from Friday Night Lights is starring in Battleship months after the disaster that was John Carter (spoiler alert: I don't see Battleship going much better). But Mel Gibson just keeps burning any goodwill he builds up to the ground.
It's no secret that Mel Gibson has had a rocky few years. The drunken arrest and anti-Semitic/sexist remarks that came along with it. The horribly offensive voicemails for his ex-girlfriend. The trial for abusing said ex-girlfriend. The weird beaver puppet movie. But it seemed like Mel was finally getting things under control and making peace. Mel began planning his next directorial feature, The Maccabees, which would be a biblical epic to prove he didn't hate Jewish people, and Robert Downey Jr. even introduced him at an awards show with an impassioned plea for Hollywood to forgive his sins and let a talented man work again. Boy, I bet Robert wished he saved his breath now.
As you've probably heard by now, a letter from Mel's co-writer of The Maccabees was leaked after the project went belly-up, and it does not paint a pretty picture. Mel is depicted as a hateful lunatic, referring to characters in the script with Jewish slurs, discussing a delusional plan to have his ex-girlfriend killed, and even threatening sexual crimes against her in front of the writer's son. A recorded rant backing up some of these claims didn't help matters for Mel. So, like every time Mel makes news, I have to ask: is this it? The final nail in the coffin?
This is Hollywood, and they love a comeback story, so there's always a chance for redemption. Here, in no particular order, are some ways in which Mel could still make that (less and less likely) comeback.
-Reveal that the real Mel Gibson has been living on an island for 6 years, what we've witnessed is Sacha Baron Cohen's tour-de-force performance for his best prank film yet.
-Lethal Weapon 5: We Thought We Were Too Old For This S#$! Before
-Punch Lindsay Lohan's dad, just because
-Use part of his massive Passion of the Christ fortune to personally fund a 4th season of Community
-Crash Courtney Stodden's 18th birthday party and stand next to her, look infinitely more likable by comparison
-Agree to a 3 year commitment to a Broadway production of Mad Max Beyond Thunderdome, from the director of Spider-Man: Turn Off The Dark
-Play a slightly fictionalized version of himself as the Nazi villain in the next Captain America movie
-Explain himself and his actions in an in-depth interview on The Wendy Williams Show