Posted by BRADY in
Skins
,
celebrity gossip
January 24th, 2011, 05:38 PM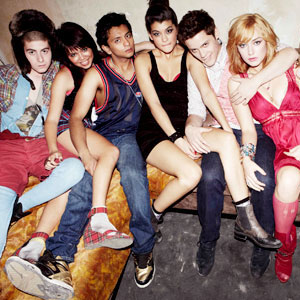 They're sitting very close to each-other! Get it off the air!
MTV's Skins, a US re-make of the UK Skins, has got exactly what any self-respecting show aimed at young people wants: tons of buzz for being too controversial and parents complaining left and right about what the show depicts. Sounds like something in the tradition of iconic MTV shows like Beavis and Butthead and The Real World that came before. So why isn't MTV celebrating it's new edgy show? Well, it's hard to make money off a TV show that no one wants to advertise on. And at the end of the day, ads are what counts. I mean even a show like Antiques Roadshow remains profitable because they can get ads for fiber supplements and walk-in bath tubs. Those are very hot markets.
But advertisers are abandoning Skins after the backlash from parent groups threatening to boycott any business that dares to advertise during such a scandalous program. The latest drop-outs are Taco Bell and Subway, though I can't say I blame them. There has to be a big crossover between people with enough time on their hands to write letters to TV networks and those that eat horrible chain-restaurant food on a regular basis. In a related story, I will still refuse to buy a walk-in bath until Antiques Roadshow agrees to re-appraise my ceramic ALF cookie jar for over $8. It's priceless! Some critics are even going so far as to say that Skins is skirting dangerously close to child pornography, and that legal action should be taken against the producers of the show who are responsible for filming underage kids in these scenarios. Well there is a very easy way to determine whether the show is child pornography: does Roman Polanski have a season pass recording set for it on DVR?
Changing topics, Bret Michaels, a man who knows all about putting perfectly legal filth/almost porn on TV, is once again in surgery. Those who read Square Eyes know of our love of Bret, so we just want to wish him well and a speedy recovery so he can get back to making awesome reality TV! He's currently having a hole in his heart (discovered during his weeks of health fiascoes surrounding his brain hemorrhaging) patched up. Though we all know he will always have a hole in his heart that only making out with strippers and picking out bandannas to jam in can fill.