Posted by Diana in
Square Eyes
,
blinkx Remote
June 23rd, 2011, 02:07 PM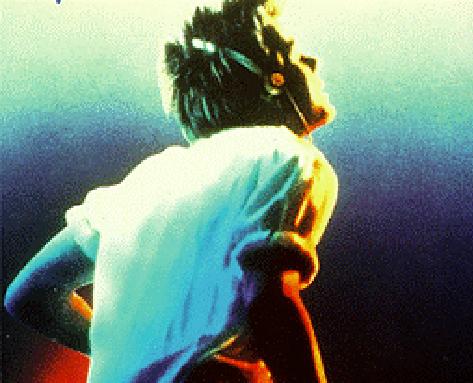 Iconic Kevin Bacon has been replaced
Have you seen the new trailer for the upcoming Footloose remake? Oh man, it looks bad. Real bad, Michael Jackson! No, real bad, Joe Jackson! Reimagined as a musical (or something?) by MTV, this seemingly carbon copy (except for the whole 'musical' aspect) has been a long time coming. Zac Efron was originally slated to play Ren MacCormack (Kevin Bacon's iconic starring role)way back in 2009, but pulled out of the project. Then, it was Chace Crawford's turn at possible movie stardom, but he pulled out last year. The current Ren is an unfortunately named professional dancer Kenny Wormald, best known for his role in something called Center Stage: Turn It Up (the Center Stage made-for-tv sequel, perhaps?). Hey, it's the only role he's had with an actual character name!
Anyway, Footloose 2: This is Not Kevin Bacon's Boogaloo stars this Kenny kid, Dancing With the Stars (and Proactive spokeswoman) dancer Julianne Hough as love interest and preacher's kid slash 'bad girl' Ariel Moore, Dennis Quaid has the Jon Lithgow stern dad preacher role of Shaw Moore, and Andie MacDowell slums it by playing his wife, Vi (the Dianne Wiest role). And that's about it for people I've heard of! Some randoms play the Sarah Jessica Parker and Christopher Penn sidekick roles, and there appear to be people of color in this version, and fancy school bus racing instead of tractors (lame! LAME!), and there is all kinds of crazy dancing. Line dancing, grinding, gymnastics–you name it, looks like these kids (who don't know how to dance because they were all in junior high when the 5 high school seniors died, amirite?!) do it. Kids these days. Too bad Kenny Wormald is no feathery haired Kevin Bacon.
Take a look at the trailer. Footloose has been MTV-ed.