Posted by Diana in
Jersey Shore
,
The Real Housewives of Beverly Hills
,
celebrity gossip
January 6th, 2011, 03:18 PM
Several newsworthy things today, my chickadees!  We'll bounce around reality television today (because it's the awesomest thing happening right now, obv!), from the Kardashians to Bravo's real harpy housewives of Beverly Hills to the gorillas of Jersey Shore.  Yes, today's blog post is brought to you from sea to shining sea.  Anyway.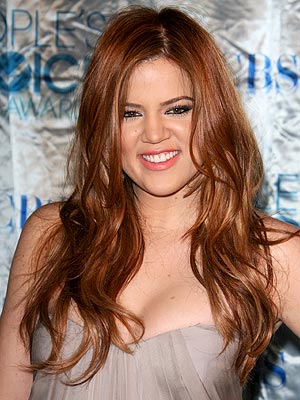 KHLOE KARDASHIAN-ODOM is now a redhead!  Gingers of the world, unite!  She made quite a stir at the People's Choice Awards–all the Kardashian girls were there (including the Jenner ones), and Khloe was front and center in the mass of raven tresses.  I think she looks pretty good!  As long as she stays on the auburn side of the spectrum.  Khloe's new show with husband Lamar Odom premieres soon–another reason to stand out from the Kardashian krowd!
The Real Housewives of Beverly Hills recently finished taping their reunion show (oh, I hope Medium Allison DuBois makes an appearance!), and once it was done, Camille (Donatacci) Grammer informed producers that she only did the show because her adulterous ex-husband Kelsey wanted her to do it, and now that she's a single mom raising two kids (with four nannies and $50 million, of course) her priorities have changed.You know what that means–Camille's holding out for more cash! 
Nannies don't come cheap these days, ya heard?  Camille is also, not surprisingly, not a big fan of how she's portrayed on the show, but hey–you gotta give crazy to get crazy, amirite?!  Tonight's new episode focuses on Camille making another cringe-worthy swimming pool-and-tennis-party attempt to mend fences with frenemy (actually, probably straight up enemy) Kyle Richards, and Kyle throws a birthday party for her husband, but Taylor Armstrong's marital issues threaten to ruin the day.  Salacious!  Kiss the air, Taylor!
The Jersey Shore returns to Seaside Heights, NJ tonight on MTV, dumping deadweight Angelica in favor of Snooki's friend Deena.  Deena is like Snooki's twin, but less tan, less stiletto heeled, and less inhibited.  I mean, she "accidentally" shows The Situation the Good China (tm Peach from Project Runway)!  That Deena, man–she's a doozy!  MTV gave a ten minute preview–it is, not surprisingly, very Jersey Shore: