Posted by BRADY in
Academy Awards
,
Glee
November 30th, 2010, 03:40 PM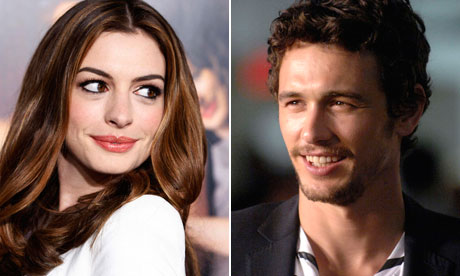 Say hello to your 2011 Oscar hosts!
Oscar producers have chosen James Franco and Anne Hathaway to co-host next year's Academy Awards, just the first of many announcements before the ceremony takes place on February 27, 2011.  Both actors are expected to be nominated (James Franco is a shoo-in for 127 Hours and Anne Hathaway more of a longshot for Love and Other Drugs).  Note to vote campaigner Justin Timberlake: nominations will be announced January 25, 2011 at 5:30am PST, so get those goody bags OUT!  Oh, you didn't hear?  JT thinks he was SO AWESOME in that Facebook movie playing that Napster guy that he deserves an Oscar!  Now, Justin, you say, don't you want to wait until the Yogi Bear movie comes out?  Your voice work as Boo Boo is bound to help your campaign!  Or the amazing voice work you did on Shrek the Third!  Or your starring role in the seminal classic Alpha Dog!  You know what, JT, you're right—this is probably your best, and only, hope for an Oscar.  I like you, Justin, I just think there are better, more accomplished actors out there.  Like the creepy kid who played Mark Zuckerberg.
After last week's Super-de-Duper I'm a Special Snowflake It's All About Kurt AGAIN episode of Glee, there seems to be nothing but more Kurt this week.  And really, I'm tired of him.  Can't we see some Mercedes?  Some Tina?  They went to all the trouble of making Harry Shum Jr. a regular, and he's barely gotten any screentime, much less an actual storyline!  I'd imagine it's hard to be a teenager of color in Lima, Ohio, and heaven knows it's hard to be a disabled teen anywhere.  Or the Jewish daughter of two dads!  I know—broken record.  Well, anyway, enjoy this clip from this week's episode (taking place at Sectionals, I believe).  It's the Dalton Academy Warblers singing Train's "Hey Soul Sister" as Mr. Schuester and Puck look pissed (and sort of crazy) and the rest of the kids, especially Rachel, of all people, looking excited.  Reminder, kids: the Warblers are your competition!
-This post brought to you by DIANA