Posted by BRADY in
celebrity gossip
October 21st, 2011, 04:34 PM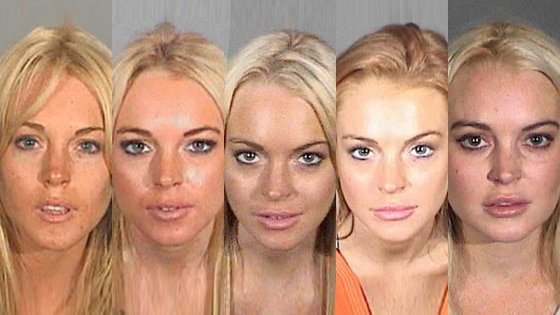 Keep it up Lindsay, just a few more and we have a calendar!
There are two things you can count on with most child stars: if they stayed in Hollywood they're gonna find themselves in some legal trouble, and if they leave Hollywood it's probably because Hollywood didn't really want them anymore. Sure, there are exceptions to both rules, but this week we find more evidence for each theory:
Another month, another Lindsay Lohan arrest!  And here it seemed like LiLo was staying out of trouble these days! Well legal trouble at least. Those photos of her decaying teeth and the one of her inexplicably making out with her own mother were plenty troubling. I won't post them here, and trust me, it's because I want you to be able to hold down your lunch and sleep at night. But it turns out Lindsay has been skipping out on her court ordered community service (at a morgue!) to spend time in Europe, "working" at various fashion shows and parties. The judge didn't really buy it either. The result? Lindsay's fifth mugshot! Impressive! You know Lindsay I hear if you collect 7 you get an extra cup of pudding in the prison cafeteria!
And on to our other child star: the long forgotten star of The Sixth Sense, Haley Joel Osment! Or HJO as the cool kids call him. Nobody really knows what the promising actor has been doing since he left Hollywood after a few films, but we can definitely rule out the gym. Maybe his beefier look is for a role? Ah who am I kidding, more likely it's because of deep fried beef and  breakfast rolls.