Posted by KAT in
Project Runway
August 25th, 2009, 11:35 AM
Confession: I've caught Twilight fever with a side of Robert Pattinson crush, just like the rest of y'all.  Ain't no shame in loving a vampire!
This fever, coupled with my years-long Project Runway frenzy, has got me pretty excited about this.  InStyle asked some of their favorite designers to sketch Bella Swan's wedding dress from Breaking Dawn, the fourth book in the series.
The dress is described as having an early 1900's design with a train and veil updated by Edward Cullen's sister Alice, kinda Austen style.
Witness Project Runway winner Christian Siriano's dazzling creation:
Though Siriano never fails to impress, common consensus across the Internets seems to be that designer Monique Lhuillier's gown is the one most faithful to the authoress Stephenie Meyer's description: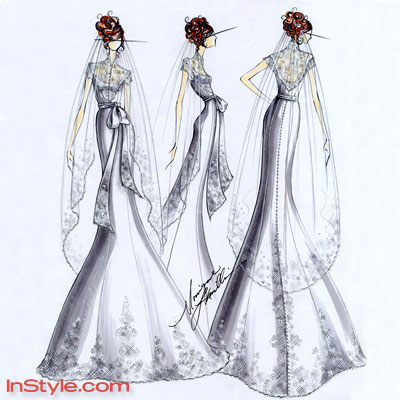 What do you think?  Has Lhuillier caught the fever?

Also sketching Bella's gown are designers Erin Fetherston, Brian Reyes, Max Azria, Prabal Gurung, Lela Rose, Badgley Mischka, and Zac Posen.
Honestly, I'd wear any of these - with the exception of Brian Reyes's look.  What the?  Is that a goat rising from the ashes?  Sheesh.  Maybe Kristen Stewart could pull it off.

[Source: InStyle.com]