Posted by Diana in
Dancing With The Stars
,
Terra Nova
September 27th, 2011, 05:10 PM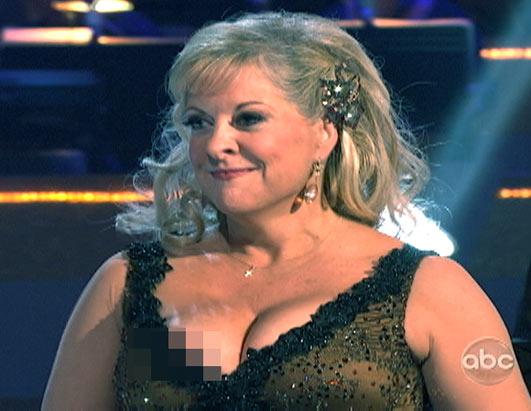 Eek! Nancy! Cover your modesty!
Dancing With The Stars (hahaha, STARS) had its first wardrobe malfunction last night–call Janet Jackson, because Nancy Grace is now on her side! Anything can happen on reality television, and now it has. This isn't the first time something like this has happened on DWTS (strategically placed sequins, skimpy costumes, spandex: all ripe ingredients for failure), but it's certainly the first time Nancy Grace's dinners have captivated a nation. Let's give thanks for her habitual pantsuits, and hope the costumers and stylists have invested in plenty of double-stick tape!
I, thankfully, missed out, due to the two hour premiere extravaganza of Terra Nova on Fox. The future and the past collide! It was a slightly less-than-solid introduction, mostly due to dramatic pauses, reliance on obvious plot twists, and a rather heinous boy (the oldest son–give me a break!). There were moments of awesome, followed by moments of annoyance, and it was an uneven ride to the end.
The year is 2149 or thereabouts, and the planet is gross, polluted, and overpopulated. There's a two-child policy per family (it's the law), and guess who's broken that law? That's right, the Shannon family! Yes, police officer father Jim and neuro-something doctor mother Elisabeth have three kids–teenage Josh, somewhat less teenage Maddie, and small Zoe. Jim gets put in the slammer for a couple years (only two–and Josh
acts like it's twenty!) but Elisabeth magically breaks him out, and through a series of contrived events (practically like The Event), they make it to one billion B.C. Ok, fine: not quite one billion, but 86 million. The Cretaceous period. Whatev. Hijinks ensue!
Overall: interesting enough premise to keep me watching, but if it starts going the way of The Event–double-speak, lame fake intrigue, overhype (too late on that one), I'll go back to The Lying Game (which gets better every week!).