Chevy Chase Vs. Community Creator Dan Harmon
Posted by BRADY in
Community
,
celebrity gossip
April 6th, 2012, 09:40 AM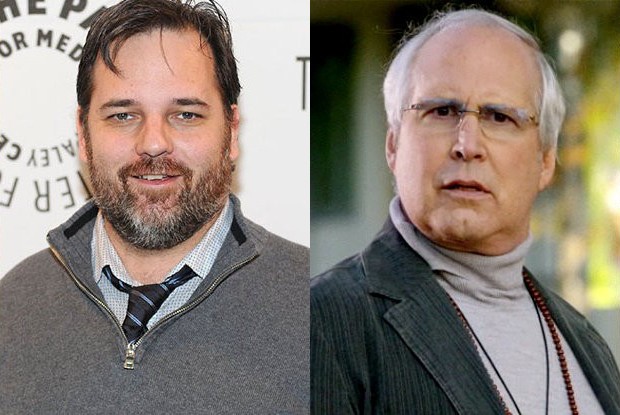 Well folks, it was only a matter of time. Honestly I can't believe they've almost made it 3 whole seasons into Community without a fist fight between these two. But its finally happened: Chevy Chase has once again let his big mouth and bad temper get in the way of his career, and Dan Harmon (the creator and head writer of Community) has once again let his big mouth and bad temper get in the way of his own creative success. These two are kind of known for these traits, so as I said, it was only a matter of time before these two on the same set ended ugly.
If you haven't heard, these two aren't exactly chums these days, despite the good news swirling in the world of Community. After a mid-season hiatus the show is finally back on the air, it scored higher ratings than any other Thursday night comedy upon its return, its been picked up for syndication by Comedy Central (something unprecedented for a show not even done with 3 seasons), and even the normally pessimistic Dan Harmon has said everything is looking good for the show being picked up for a 4th season. Great news! As I've said here many times, Community is the most original and creative sitcom on network TV, willing to take risks no others will, and its also really damn funny. None of this is very exciting to Chevy, apparently, who just gave an interview where he acted very disinterested in the show, claiming he didn't find it particularly funny, knew he could improvise funnier stuff than what the script included, hated sitcoms in general, hated his character and didn't think he would be around much longer. Well, he must be a joy to be around on set…
Then everything really blew up when Dan Harmon, in front of a crowd of 150, played an angry, profanity-laced voicemail he had received from Chevy. Apparently Chevy had stormed off the set near the end of season 3 because he didn't like a scene, leading to Dan Harmon performing an impromptu roast of Chevy at the season 3 wrap party, encouraging the entire cast and crew to yell "F*** you, Chevy!" at a table where Chase sat with his wife and daughter. Yeah, probably not a good move. Chase left the message, Harmon played it, and because we live in the world of today it was quickly online for millions to hear. Having his private rant exposed to the world probably isn't going to encourage the already ambivalent Chase to stay on board…
As I said this was inevitable. Dan Harmon is fantastically creative and hilarious, but his peers and even he will admit he can be childish, vindictive, bitter, stubborn, and angry. He was famously fired from running The Sarah Silverman Program after only a few episodes because he would not stop fighting about the direction of the show from day one with Silverman, who, you know, had her name in the title. She's said Dan is amazing but that there was only room for one crazy control freak on the show and it had to be her. Chase, of course, has a long and storied history of being a jerk, starting back in his days on SNL. I mean this is a guy who Bill Murray, his Caddyshack co-star, punched backstage. You have to be a real jerk to get hit by someone as awesome as Bill Murray. Even Johnny Carson, one of the nicest men in Hollywood, bashed Chase on occasion. And the streak has continued up to Community, where cast members seem to eagerly change the subject when Chevy comes up, simply saying "Chevy is Chevy," or at times admitting his reputation is very well earned.
So, will Community be one cast member short if it returns? Or will the two make nice after all this? And most importantly, when will Chevy Chase remember that Dan Harmon saved his career?