Bachelorettes, Bitches, and Bullpucky!
Posted by Diana in
Glee
,
Keeping Up With the Kardashians
,
The Real Housewives of New York City
July 26th, 2011, 04:15 PM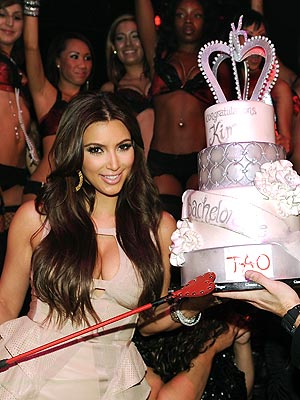 BACHELORETTES!
Ya'll hear about Kim Kardashian's bachelorette party? Take one stereotypical bachelorette, two stereotypical sisters of the bachelorette, one stereotypical city (Las Vegas), and what happens? Duh! Stereotypical hijinks ensue! Unable to party like mere morals, The Sisters Kardashian cooked up a full day of bachelorette-ing (while Mr. Kim Kardashian, Kris Humphries, did his bachelor-ing thing with his bros nearby), including massages, shopping, lots of delicious eating, and–of course–crashing the bachelor party at the end of the night! Khloe and Kourtney, true to their word, did everything possible to embarrass the unflappable Kim, including making her wear a pink sash and an illuminated tiara. They didn't stop there, of course, because what's a bachelorette party without some male genitalia and a mini male stripper? LaLa Vasquez Anthony, Brittny Gastineau, and Kris Jenner (the former Kris Kardashian–how sitcom!) accompanied the sisters in eating genitalia-shaped cake and sipping through similar straws. True to form, there was screaming, crying, quitting, and reconciliation, but of course no one will admit to it. You ever been to a bachelorette party in Vegas? True facts, people. True facts.
BITCHES!
The normally easygoing Bravo VP Andy Cohen was shaken and stirred out of his
gentle vibe during The Real Housewives of New York City reunion! He's been hosting these reunion shows multiple times per year for multiple years, and finally cracked. Oh, Andy! You are human! Not only human, but incredibly human. The viewing audience has wanted to tell all the Housewives to STFU for ages, but no one ever has…until now!
BULLPUCKY!
The first ridiculous thing about this bit of news is that Glee was at San Diego Comic Con. Gleeks do not an ostensibly comic focused convention make, Ryan Murphy! But hey, the Glee cast is farmed out for everything else, so why not? The second ridiculous thing is that earlier this month, creator Ryan Murphy said Lea Michele (Rachel Berry), Cory Monteith (Finn Hudson), and Chris Colfer (Kurt Hummel) would be leaving the show at the end of the next season, since all are apparently seniors and graduating. Never mind that those three being seniors and the rest underclassmen makes absolutely no sense, because apparently, Gunther from Friends is wrong. Co-creator Brad Falchuk now says the characters are graduating, but are not leaving the show. Can you seriously imagine Rachel or Kurt sticking around Lima after graduation? No. Not at all. Something is rotten in the state of Ohio.
Chord Overstreet (Sam Evans), is, however, permanently done with the show and parted on his own terms. Good for you, sir!