So You Think You Can Dance 5: Top 12 Elimination
Posted by ERIN in
So You Think You Can Dance
July 9th, 2009, 11:25 PM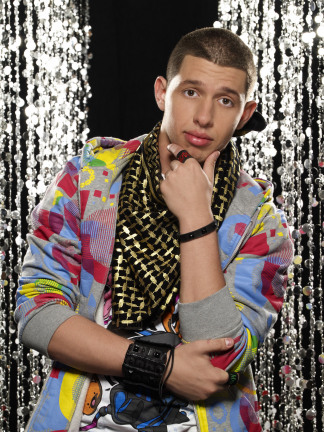 Woohoo! I'm happy with tonight's So You Think You Can Dance elimination - the judges made the right choice and came up with an "everybody wins" compromise. More ahead and videos (by MJ) from tonight's episode:
GROUP DANCE: Tabitha & Napoleon choreographed this Hip Hop routine to "Seven Nation Army" by The White Stripes. True to the song title, everyone was dressed as soldiers (originally I thought their military jackets were inspired as a Michael Jackson tribute - PIC - maybe they were…more on this next). It was entertaining and you can't beat the awesome White Stripes jam, but the group wasn't fully together in spots. VIDEO
So the BAD news (you'll get the pun in a sec): The totally tubular Michael Jackson dance special they were planning (dances of all styles to M.J.'s music) was not approved by Sony or the Jackson family estate.  Nigel says they couldn't get the songs cleared. *sad trombone*
But onto worse news: who's getting cut tonight? First, we find out that Caitlin and Jason are in the Bottom 3 and better-than-sliced-bread couple Janette and Brandon are safe. Totally agree. I haven't been on the Caitlin-Jason train at all. Both lovely dancers, I'm sure, but just blaaaaah together.  VIDEO
Next we find out that Team Short Stuff, Randi and Evan, are SAFE (despite Evan's weak performance last night) and Jeanine and Phillip are in the Bottom. I sort agree with that, too. Not so much that Jeanine deserved to be in the bottom, but c'MON. It's time Phillip go home! I wished both of these couples were in the bottom and wasn't looking forward to find out if Kayla and Kupono or Melissa and Ade were in trouble (I like both couples!). VIDEO
Well, it was a lose-lose: Melissa and Ade are in the Bottom 3 for the first time this season. Booooo–butttt, I'm happy that Kayla and Kupono are safe. It's a close call because both couples had one strong number and one weaker number last night. For Melissa and Ade, their Disco number was hot hot hot and their Waltz was aiiight. Kayla and Kupono's Contemporary addiction dance was kick-you-in-the-gut powerful, but their Broadway number was "ehh". I think the audience got it right. VIDEO
To kill time, we're teased with clips from the current SYTYCD Season 6 auditions. We see a snippet of a "whimsical" dancer form Boston named Teddy who makes it to Vegas. Is he THAT whimsical? I dunno, it just looked like a badly dressed guy dancing Contemporary *shrug* He also had that "meth-head", picked-at, scabby face, so that turned me off a lil bit. Just me? Do you love Teddy already? VIDEO
SOLO DANCES: Time for our Bottom 3 couples to DANCE FOR THEIR LIVES! Caitlin (song: "Stand By Me" by Playing for Change) definitely does not brang it for me. She just coquettishly flits around stage without much power or passion. Jason (song: "Calm Touching" by Evaline) impresses me more in his solos and this was the case again tonight. He had some great, unique movement, lots of wound-up-then-explode twirls and spins. Jeanine (song: "Baby's Romance" by Chris Garneau) is wearing some distracting golden dress and her jubblies are about to pop out. Her solo is weaker than last week's and it seemed she has trouble finding her center in spins. Then, curse him as I do, Phillip really amazes me in his pop-locking solo. He is DEFINITELY so fun to watch in his own style, but you know what? They NEVER dance in his exact style on this show, and he hasn't been that great in any other genre, so let's just send him home please (excellent choice of music though - "The Diva Dance" from The Fifth Element). VIDEO
Our last DANCES FOR THEIR LIVES are Melissa and Ade. It's our first time seeing them do a longer solo and I'm excited and nervous. These two deserve to survive, but what if the judges keep a more popular dancer (a.k.a. Chbeeb)? Melissa (song: "Kashira" by Kodo) does her ballet thang and it WORKS. She does the strongest female solo of the night (and I'm not into ballet). I worried about Ade (song: "Windowdipper" by Jib Kidder) until he did this INCREDIBLE backflip. He got SO much air it was absoutely amazing - and some really energetic moves in his solo - everyone gave him a standing ovation. I pray the judges keep him. VIDEO
As the judges leave to choose their Bottom Guy and Girl, DJ David Guetta and Kelly Rowland perform "When Love Takes Over". Fast forward for me. VIDEO
ELIMINATED: Caitlin Kinney and Phillip Chbeeb. VIDEO
I can't believe it! I really thought the judges were clinging on to Phillip so he could be in the Top 10 Tour, but looks like they worked things out with the producers: 1) Phillip goes because it's HIS time, but 2) he and Caitlin still get to join the tour!  Everybody wins. For the first time all season, Phillip almost makes me cry with his farewell speech about his difficult journey from a poor background. You're alright by me, Chbeeb (even moreso now that you're gone though).
Next week we have some big change-ups! The So You Think You Can Dance couples must pair-up with new partners and the judges relinquish control of who gets eliminated to AMERICA. *gag* Will our "Top Dancers" still be as strong with weaker partners, and will overshadowed dancers gain some momentum with a new partner? Who do you want to see join forces? How about Kayla and Ade (KAdeyla?) or Brandon and Jeanine? The girls are much stronger than the guys at this point so there'll be more than one person who'll be downgrading partners. I can't wait to see what happns!